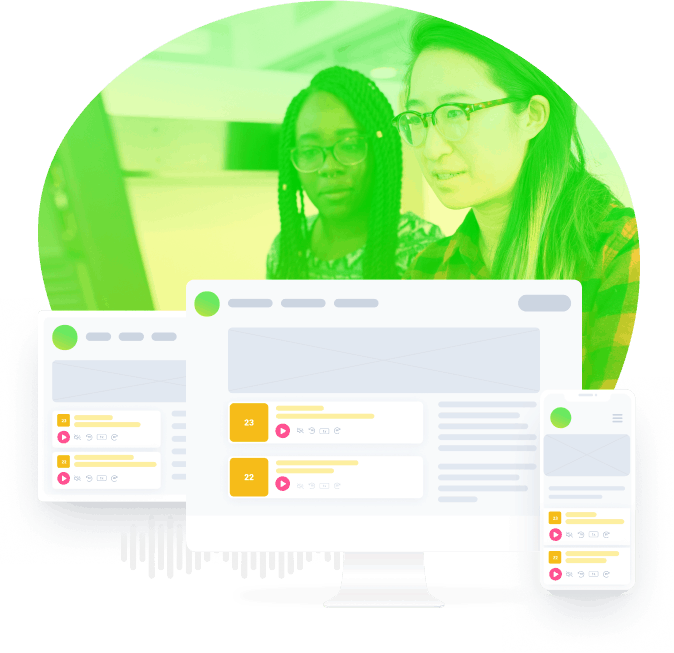 A customized listening experience for your private podcast
Available on both iOS and Android, the Castos mobile app is the perfect complement to your Private Podcast.
Castos' mobile app is the most secure way to manage access to your private podcasts and give your listeners the rich listening experience they're looking for.
How Does The Castos Mobile App Work?
Offer Exclusive Content
Share special content with only members to your digital community.
Deeper Connections
Offering exclusive content is a great way to add value to your existing connections.
Secure Distribution
No clunky private RSS feed to mess around with. Content goes straight from into the Castos app.
Rich Listening Experience
Establish an environment where listeners can engage in new ways with your content.
How Does Private Podcasting Work?
Your Private Subscribers download the Castos mobile app from the iOS or Android app store, log in with their email, and instantly receive all of their Private Podcast content.
Does the Castos Mobile App cost extra?
Nope, the mobile app is available for all Castos users and their Private Subscribers at no extra cost.
If someone is subscribed to multiple Private Podcasts on Castos what will happen?
The mobile app is meant to be a platform-wide listening experience for Subscribers. So once they log in they will instantly see all Private Podcasts that they're eligible to receive, across the entire Castos platform.
Can I Can I white label the mobile app with my own brand? for access to my Private Podcast?
Absolutely. Please get in touch with our sales team here to discuss what our white label app options are.
Can Subscribers listen to public podcasts on the Castos app?
Not at this time. The Castos app is meant to be just for Private Podcast use for now.
I have loads of ideas for things the mobile app could do, where can I suggest new features?
Fantastic to hear, we're looking forward to hearing from you. Please drop in any suggestions for upcoming features on our feedback board at https://feedback.castos.com