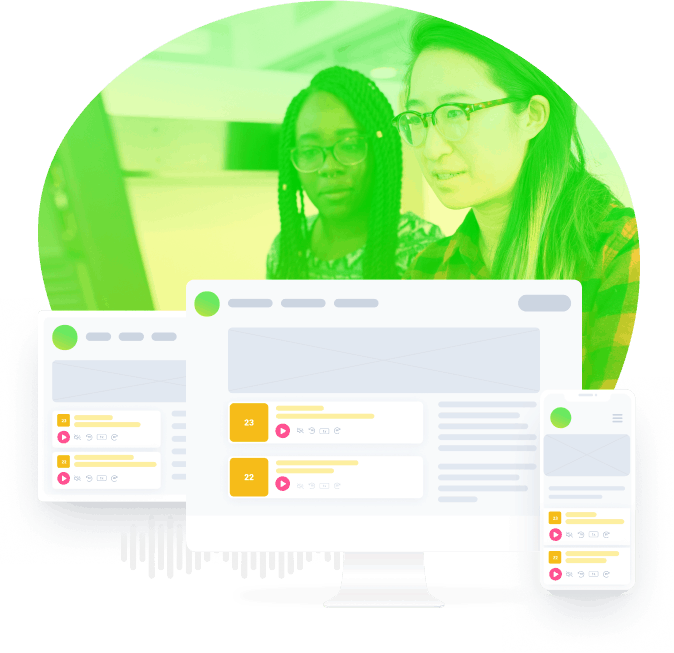 Create member-only content for your community with private podcasting
Sometimes you want your podcast to be private, where only certain individuals can access the content of your show.
With Castos you can easily create a Private Podcast for your membership site, online course, or community. And integrate it with the tools you already use through our direct integrations and Zapier integration.
Trusted by 40k+ brands like
Why Create A Private Podcast?
Offer Exclusive Content
Share special content with only members to your digital community.
Deeper Connections
Offering exclusive content is a great way to add value to your existing connections.
Easy Integrations
Castos' Private Podcasting integrates directly with hundreds of tools you already use.
Monetize Your Show
Don't rely only on ads to monetize your show. Paid access to your podcast is just a click away.
How Does Private Podcasting Work?
All you need to do is add your individual Private Subscribers by their name and email address, and we take care of the rest.
Your new Private Subscribers will receive an email on your behalf inviting them to your private podcast. They subscribe with a unique RSS feed URL to their favorite podcasting app, and that's it!
Frequently Asked Questions
How much does Private Podcasting cost?
Castos' Private Podcasting is included in all of our standard pricing plans. You're allotted up to 100 private subscribers in our Essentials plan, 250 in the Growth Plan, and 500 in the Pro plan. If you go over 500 Private Subscribers we simply bill you $50 per 500 additional Private Subscribers in your account.
Can I add the same person to multiple Private Podcasts?
Yes! The same individual email address can be added to as many Private Podcasts in your account as you'd like. That one unique private subscriber only counts once in terms of billing.
Can I charge for access to my Private Podcast?
Absolutely. With our direct integration with the popular membership platform MemberPress you can easily set up paid tier access to your content, and tie that in directly with your Private Podcast in Castos.
Can I create a Public and a Private podcast in the same Castos account?
You bet! You're always free to create as many podcasts in a single Castos account as you'd like. Make them Public or Private depending on the use case for that show.
Does Private Podcasting work with Seriously Simple Podcasting in WordPress?
Yes, it does. All you need to do is set up that new podcast in WordPress, and once that has synced over to Castos set the podcast as Private in your Castos dashboard. From there publish episodes to the Private Podcast and your Private Subscribers only will get that content.