Researching your podcast hosting options? Do you want to see exactly how Castos and Buzzsprout stack up? We're giving you a straight-forward look at how Castos compares as a Buzzsprout alternative for your podcasting needs.
Looking For A Buzzsprout Alternative? Meet Castos
On the surface, it appears Castos and Buzzsprout offer similar podcast hosting options. But if you dig a little deeper, you'll notice a few crucial differences in our services. If you're on the fence about whether Buzzsprout is the best podcast host, keep reading. We'll show you how our features and costs compare to help you make a decision.
Podcasting Just Got A Lot Easier
Castos takes all of the confusion out of starting and growing an impactful podcast for your brand. Get started and check it out today!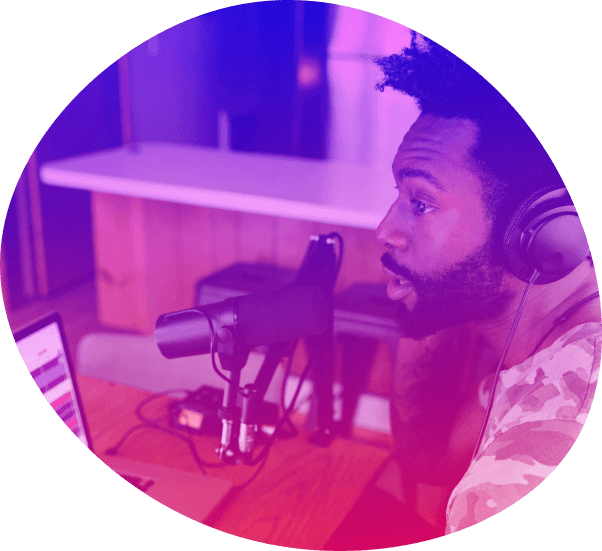 Castos Features Compared To Buzzsprout
Castos is the best alternative to Buzzsprout for your podcast hosting needs. We offer additional features, straight-forward pricing, and the peace of mind that we're committed to podcasters in the long run.
Here's exactly how Buzzsprout and Castos compare.
Upload & Bandwidth Limits
Castos
Unlimited uploads, podcasts, and episodes on all plans
Buzzsprout
Bandwidth is capped at 250GBs and all plans include an upload time limit
Castos
Core features included within our Essentilas Plan for $29/month.
Earn 2 months free with our annual plans.
Buzzsprout
Core features included within Basic plan for $12/month.
Additional costs for going over upload and bandwidth limits.
Castos
Use Seriously Simple Podcasting to manage your podcast directly from WordPress.
Publish episodes, customize the embeddable player, and view analytics from one dashboard.
Buzzsprout
Plugin only creates an embeddable player. Required to manage your podcast within Buzzsprout's dashboard, then replicate the workflow on WordPress.
Automatically Convert & Publish Podcast To YouTube
Castos
Use Automatic YouTube Republishing to convert episodes into video files and publish them to YouTube.
Host both your audio and video files with Castos.
Buzzsprout
Feature not currently supported by any plan.
You only have the ability to host audio files with Buzzsprout.
Uploaded Files Not Altered
Castos
Castos doesn't alter your files, ever. The files you upload to Castos are exactly the ones your listeners hear.
Buzzsprout
All uploaded files converted to 96 kbps, resulting in sub-optimal listening experience for your audience.
Manage Multiple Podcasts From One Account
Castos
Unique RSS feeds created for every new podcast series.
Buzzsprout
Unique RSS feeds created for every new podcast series.
Castos
$0.10/minute, pay-as-you-go
Buzzsprout
$0.10/minute, pay-as-you-go
Use Your Own Domain Name For RSS Feed Link
Castos
RSS feed URL can be based on your current domain name for free either through Castos' Custom Domain feature or via your WordPress site.
Buzzsprout
RSS feed URL can be based on your current domain name for free.
Advanced Analytics For Every Plan
Castos
View listens by episode, geographic breakdowns, and listens by device and platform.
Buzzsprout
View listens by episode, geographic breakdowns, and listens by device and platform.
We don't have upload limits for any plan so you can podcast until your heart's content. Buzzsprout doesn't let you do that.
Every Buzzsprout plan includes limits on the number of hours you can upload per month. Their most expensive plan at $24/month only allows you to upload 12 hours per month. Want to experiment with longer episodes or try publishing more frequently? That may require purchasing additional upload hours or bumping up a more expensive plan.
On top of upload limits, Buzzsprout also imposes a 250GB/month bandwidth limit. This limits the number of people who can listen to your episodes. If you run out of bandwidth in a given month, listeners may not be able to download or listen to your latest content.
Tip
Calculate the amount of bandwidth you need using Podtopia's Bandwidth Calculator. Grab your average episode file size in MBs, how often you publish new episodes, and estimated subscriber count to figure out your bandwidth needs.
Castos doesn't believe in limiting your creative process so all of our plans include unlimited uploads, unlimited Podcasts, and unlimited Episodes on all plans. Upload as many hours as you want and rest easy knowing your audience will always be able to access your latest content.
You'll have the freedom to experiment with new concepts, host multiple shows, and podcast until your heart's content with Castos. We prefer that you grow your podcast without worrying about limitations and unexpected costs.
You'll also find similarities between Castos' and Buzzsprout's plans. Each include:
Advanced Podcast Analytics
Customizable Podcast Websites and Themes
Automatic Distribution To All Major Podcasting Directories
One-click import of your existing podcast from Buzzsprout
But we differ in one key aspect: price predictability. Buzzsprout's basic plan starts at $12/month, compared to Castos' $29/month Essentials Plan. But here's how you may incur additional costs using Buzzsprout (bandwidth needs calculated with Podtopia's Bandwidth Calculator and assuming a 60 minute episode is 50MBs):
Podcasting Needs:
Publish 4x 60 minute episodes per month
1,000 total plays per month = 240GB bandwidth needed
Castos Essentials Plan
$29/month or $290/year
Buzzsprout Basic Plan + 1 additional upload hour
$16/month or $192/year
Podcasting Needs:
Publish 4x 60 minute episodes
2,000 total players per month = 400GB bandwidth needed
Castos Starter Plan
$29/month or $290/year
Buzzsprout Pro Plan Upgrade + 1 additional upload hour (for additional upload needs)
$54/month or $636/year
Podcasting Needs:
Publish 4x 60 minute episodes
Republish podcast to YouTube automatically and host video files
Castos Growth Plan
Automatically republish your podcast to YouTube using a static background image.
$49/month or $490/year
Castos Pro Plan
Do you film while recording your podcast? Host your video and audio files with Castos and republish it to YouTube and WordPress.
$99/month or $990/year
Features not supported by Buzzsprout
At Castos, we don't see the sense in penalizing you for creating more content. Launch your podcast with our Essentials Plan at $29/month or save $38 per year with an annual plan. When your podcast is a hit and starts generating 20,000 plays a month, you'll continue to spend the same amount for your hosting needs.
Castos makes podcasting with WordPress seamless with our Seriously Simple Podcasting plugin. With Buzzsprout, you'll spend more time managing your podcast between two platforms.
Buzzsprout has a WordPress plugin but it has limited features, only allowing you to embed a player on your website. You have to toggle between the Buzzsprout dashboard and WordPress to publish a new episode to your website, adding unnecessary steps to your workflow.
With Seriously Simple Podcasting, you can manage your podcast directly from the WordPress dashboard you know and love. With robust features and an intuitive interface, there's a reason over 30K+ podcasters trust Seriously Simple Podcasting.
Here's everything you can do directly from your WordPress dashboard using Seriously Simple Podcasting:
Upload audio and video podcast episodes directly to WordPress
Files are automatically synced with your podcast hosting provider (like Castos)
Display podcast episode lists, single episodes, or playlists anywhere on your site
Change embedded player settings with customized colors and episode images
Feature custom subscribe links to any podcast listening platform
View episode analytics within WordPress dashboard
With Buzzsprout Podcasting, you're only able to add an embedded player using the Gutenburg media block.
Automatically republish your podcast to YouTube with Castos and be discovered by their 2 billion monthly users. And we'll host both your audio and video files. With Buzzsprout, it's more complicated.
Many podcasters choose to film video while recording new episodes to repurpose their podcast for YouTube. With Castos' Pro Plan, you can host your video and audio files for one low price.
If you haven't started filming videos alongside your episode recordings, try our Growth Plan. Each time you upload a new episode to Castos, we'll convert the audio files into a video format and add a static background image. Then we'll republish the episode to your YouTube channel automatically.
Neither of these features are available with Buzzsprout, requiring you to do everything manually. For those repurposing a podcasts into video content, Castos' automatic YouTube republishing tool saves you time and headaches.
Castos doesn't alter your files in any way when you upload them to your dashboard. Buzzsprout can't promise that.
Buzzsprout automatically converts uploaded files to 96kbps not matter which bitrate you might have previously set when editing the episode. For those who don't spend anytime editing their audio files, this won't be a big deal.
But for the podcasters who spend timing editing and mixing each episode, having the hosting provider automatically alter the final file can be a game changer.
Castos doesn't touch our customer's uploads and leaves the episode exactly how you envisioned it to sound. At Buzzsprout, you'll have to pay an extra $6/month to turn off this automatic file conversion feature.
Compare Castos With Other Podcast Hosting Providers