One of the hallmarks of the Castos platform is giving you the option to publish your podcast content wherever you'd like. Specifically, this means you can publish new podcasts and their respective episodes:
If you choose the latter, where you will manage your podcast via WordPress with the help of our Seriously Simple Podcasting plugin, then you may be wondering how these two pieces fit together.
Understanding How Podcasts Work
To begin with, it's important that we understand what a podcast really is, where it comes from, and then we can talk about how the content of a podcast is managed.
We put together a great primer on what your podcast RSS feed is.
The TL:DR is this: Your RSS feed is the place that directories like Apple Podcasts, Stitcher, Spotify, and Google Podcasts go to read information about your podcast as a whole and for each individual episode.
Each time you update information in your feed on a meta-level, such as changing the title or description, or publish a new episode, that information is reflected in your RSS feed. Then directories like Apple Podcasts will show that updated meta feed information or latest episode.
If it isn't in your RSS feed it doesn't exist in the eyes of directories like Apple Podcasts, Stitcher, and even Spotify.
Why Use WordPress For Your Podcast?
For some of you, this isn't even a question, of course. You'd manage your podcast in the same place you already manage the rest of your content, in your WordPress site.
All you need is to extend the native WordPress capabilities to better manage your podcast feed and episodes and then connect a dedicated media hosting platform to it for your podcast, and you're all set. Thankfully Seriously Simple Podcasting and Castos make this easy.
Podcasting with WordPress also provides these not-to-be-missed benefits:
Easily cross-link between your podcast content and other posts on your site to allowing users to engage with more content
Build powerful SEO value by generating more valuable content to boost your domain's authority and ranking in search results
Offload the heavy work of storing and distributing big files from your website hosting provider by connecting Seriously Simple Podcasting to a podcast hosting provider. This will speed up your WordPress site and provide a better listening experience.
What Are Seriously Simple Podcasting's Features?
Seriously Simple Podcasting is an easy-to-use podcasting solution for WordPress that is as powerful as it is simple. It uses a native WordPress interface and has minimal settings so as not to distract you from what you really need to do – publish your content.
Its primary features include:
Manage the podcast's RSS feed
Upload audio and video files directly to the WordPress dashboard
Create multiple podcasts, each with their own unique RSS feed
Customize the podcast player to match the rest of your WordPress site
View episode analytics and stats inside WordPress
Feature custom subscribe links for any podcast listening platform on each episode post
Shortcodes & widgets for displaying podcast episode lists, single episodes and podcast playlists anywhere on site
Use the turbocharge feature to include 100+ episodes in your feed
How Seriously Simple Podcasting Works With Castos
Seriously Simple Podcasting integrates directly with the Castos dashboard. Using the API key found in the Castos dashboard, connect your Wordpress site to a Castos hosting account in a few clicks. Once connected, all of your podcast information managed within WordPress will also sync directly to your Castos dashboard.
How to connect Castos and Seriously Simple Podcasting
Seriously Simple Podcasting gives you the ability to manage your RSS feed, upload new episodes, and view podcast analytics via your WordPress site. Since you manage your other content here, why should your podcast be any different?
Here are the four easy steps to syncing Seriously Simple Podcasting with Castos.
Step 1. Find the API key in your Castos Dashboard
Log into your Castos account and in the top right corner, click 'My Account' in the dropdown.
Under the 'Podcast Settings' tab, find your unique API key. Make sure the 'I'm using WordPress for my podcast website' is checked in order to view the API key.
Step 2. Add the API key to the Seriously Simple Podcasting dashboard on WordPress
Now toggle back to your WordPress dashboard where you have previously installed Seriously Simple Podcasting.
Under the 'Podcast' tab, go to 'Settings' and enter the API key in the 'Castos API token field'. Then click 'Validate Credentials'.
Your Castos dashboard will be an exact mirror of what's on your WordPress site. Each time you update the Feed Details, add a new Series (the Seriously Simple Podcasting term for a separate podcast), or publish a new episode, that information will sync instantly to your Castos dashboard.
Step 3. Upload a podcast episode to Seriously Simple Podcasting
Under the 'Podcast' tab, click 'Add New'. On the top of the post, include the episode title and description. The description can include your show notes, transcriptions, and any other resources related to the episode's topic.
Under 'Podcast Episode Details', select the podcast audio file to upload.
When you upload a media file in your WordPress site, you'll see the blue progress bar at the top of your screen. This indicates the media file is being uploaded directly to your Castos account, in addition to your local WordPress server.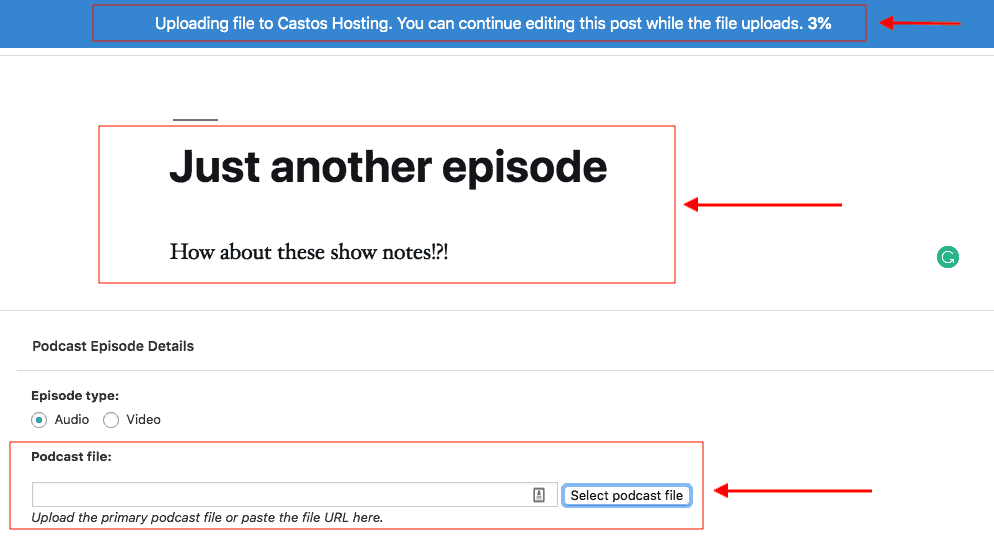 Any changes you make to your podcast in WordPress using Seriously Simple Podcasting will sync up directly to your Castos dashboard. But the reverse is not true. We will never push information from Castos to your WordPress site. We reinforce this by taking away the option to create a new podcast or episode from your Castos dashboard if the 'I'm using WordPress for my podcast website' option is checked.
Step 4. Submit the podcast's RSS feed to podcast directories
Back to the 'Settings' tab, find the podcast's RSS feed link under 'Publishing'. Find the link in the 'Complete feed' field.
This WordPress based RSS feed (i.e. https://mysite.com/feed/podcast) is the feed URL that you submit to directories like Apple Podcasts, Stitcher, and Google Podcasts.
Migrating Your Podcast From Other Platforms
The obvious question for those who already have existing podcasts is "Can I move all of my podcast episodes from my existing 3rd party hosting provider into my WordPress site, and into Castos"?
And the answer is a resounding yes.
The best part is it's entirely free and is literally just a click of a button away.
Within Seriously Simple Podcasting we've built in two different types of import tools. These are designed to cover the most common scenarios around importing your podcast to SSP.
If you are currently hosting your podcast on a different platform and want to migrate your episodes to WordPress, learn more at Importing from an external provider into WordPress.

If you already use Seriously Simple Podcasting but want to start using Castos as your podcast hosting platform, learn more at importing your existing episodes in WordPress to Castos.
So even if you're not yet using Seriously Simple Podcasting and Castos, you can switch over without additional costs or technical heavy lifting. Both of these processes are automatic and take just a few minutes to complete.
Seriously Simple Podcasting FAQs
Below are some of the frequently asked questions about Seriously Simple Podcasting. If this guide or the below answers don't resolve your questions, please reach out to our support team at [email protected].
Is Seriously Simple Podcasting free?

Yes! Seriously Simple Podcasting, along with the Seriously Simple Stats extension, are completely free to install and use.

The only costs associated with hosting your podcast on WordPress would come from the podcast hosting provider, like Castos.
Can I host my podcast with any podcast hosting provider?

Yes! Seriously Simple Podcasting is configured to work with any podcast hosting provider.

While we'd love for you to use Castos to host your podcast, it isn't required.
Can I host multiple podcasts using Seriously Simple Podcasting?

Sure can! Seriously Simple Podcasting creates separate, unique RSS feed links for every podcast you want to publish.

Go to 'Series' inside Seriously Simple Podcasting and add each new show's details. Inside 'Settings', under the 'Feed Details' tab, you'll find the unique feed link when clicking the 'View Feed' at the top.

Inside your Castos dashboard, the separate podcasts will also appear as unique feeds automatically.
Do many podcasters use Seriously Simple Podcasting?

We're proud to say Seriously Simple Podcasting has over 20,000+ active installations and a 4.8 rating!

With almost 200 5-star reviews, both newbie and veteran podcasters appreciate the robust product features combined with an intuitive interface.